Weddings at Hotel V Fizeaustraat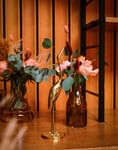 Our Amsterdam Wedding Location
Welcome to Hotel V & The Lobby: a wedding location with 70s vibes in the bustling East of Amsterdam. Surrounded by the lively Amstel skyline, but with the tranquility and greenery of Watergraafsmeer. We have been an official wedding location since 2019 and you will find us on just a five-minute stroll from Amstel Station. Our four-and-a-half-star-hotel comes with 91 hotel rooms, so guests from outside of the city can spend the night as well. Parking is possible in our underground parking lot.
Bustling Amsterdam East
Official wedding location
From the ceremony and reception to the dinner and afterparty
Underground parking lot
Our in-house styling team has years of experience in interior design and styling weddings. They will decorate the ceremony and reception area, the dinner set-up and the afterparty completely to your taste. You tell them your wedding day wishes, they will turn it into a wedding concept that exceeds your expectations. From vintage and bohemian to botanic & floral or minimalist simplistic. Whatever tickles your fancy.
We're an official wedding location for wedding ceremonies. Welcome your guests in our Private Dining – a bright space with wood paneled interior and a stylish, homely atmosphere. For the ceremony we create an intimate setting with candles, top notch bouquets and your favourite tunes. This is the spot to tell your love story, share your wedding vows and say I do in front of your loved ones.
For the ceremony we create an intimate setting with candles, top notch bouquets and your favourite tunes
The reception will take place after the ceremony has finished and happens in our laidback Private Dining area. It's time to celebrate your love for each other! Cheer, hug, share laughs, receive gifts and take photos together. Our heartfelt V-Crew will make sure Champagne is popping and other delicious drinks and fingerfood are served. In need of a photographer, videographer and/or master cake baker? We know of a few very talented folks and will happily help you to their contact details.
A homely yet stylish space with wood paneled interior and 70s vibes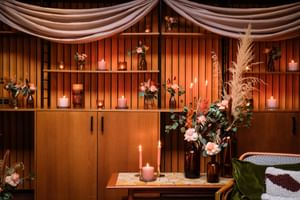 Our in-house restaurant The Lobby Fizeaustraat is a fine-dining restaurant with a large selection of exclusive wines whilst the vibe is relaxed and informal. Vegetarian? Crazy about bavette? Or do fish dishes make your heart skip a beat? Share your wishes with our executive chef and he will put together a tailor-made menu for you. Our knowledgeable sommeliers will pair each dish with a gorgeous wine. After the ceremony our stylist will transform the Private Dining into a beautiful dinner setting. Our loving V-crew is there to make sure you have the day of your dreams.
Drinks and chats or a magnificent after party? Both? All is possible at Hotel V & The Lobby. Enjoy drinks together after dinner in the Private Dining or go to the Palm Room, a flamboyant space in our basement. Glam, vintage furniture, a private bar and DJ possibilities. The ideal place to have a good time, boogie and celebrate with all your weddings guests.
Make your day complete by staying overnight in our romantic bridal suite with a view of the Amstel skyline and fireplace. After your big day all you have to do is step into the elevator and dive into the king-size bed. Are guests coming from outside Amsterdam? Then, of course, several rooms can be booked for your group. A shared breakfast on the morning after your wedding is also an option. ©Thessa Koopman - The Lookz Fotografie